The value of talking face to face
The Freiburg Institute for Advanced Studies provides information on funding opportunities - using a new format
Freiburg, Jun 22, 2017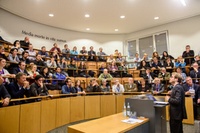 Photo: Roger Koeppe
The Freiburg Institute for Advanced Studies (FRIAS) is the international research college of the University of Freiburg. It will celebrate its tenth anniversary next year. FRIAS is inviting interested parties to become familiar with its various funding formats at its first information fair on June 27, 2017. Sophie Baar spoke with FRIAS director Bernd Kortmann about the new event format.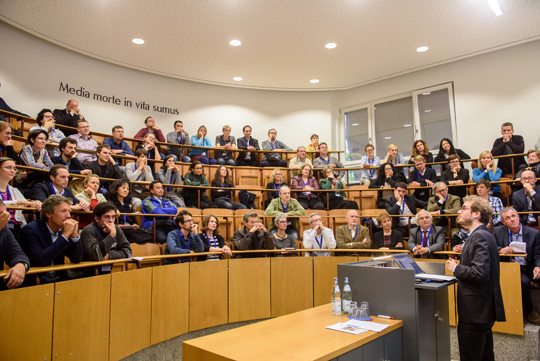 Explore funding options right here: At the FRIAS Funding Fair, the Freiburg Institute for Advanced Studies presents its various funding formats – including project groups, research foci, and Marie Curie Fellowships.
Photo: Roger Koeppe
Professor Kortmann, how did the idea for an information event come up?

Bernd Kortmann: We've never had an Open Day at FRIAS - and we simply wanted to change that. The idea is to introduce the FRIAS funding formats to members of the university in a communicative way. Our goal is to animate direct exchange and dialogue with those who manage the funding applications, on the one hand, and who have already received funding, on the other hand, so that interested parties develop a clear idea of what kinds of projects and activities FRIAS does and does not fund. It is all about getting people to talk with each other directly, instead of just handing or sending out written information about the funding programs. In this age of IT overload by email and social media, talking face to face is often more informative, more efficient, and leaves a lasting impression.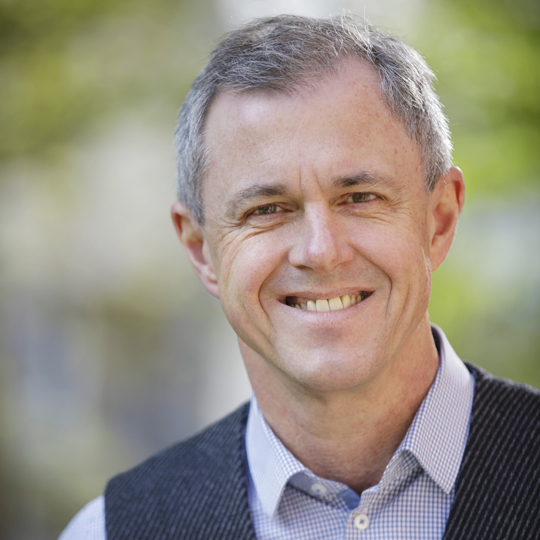 Bernd Kortmann, director of the Freiburg Institute for Advanced Studies, is staging the event to promote the direct exchange between current fellows and members of the university who are interested in the funding formats on offer.
Photo: Jürgen Gocke

What can visitors expect at the event?

It's not a classic Open Day - more like a trade fair or an internship fair. The various stands in the FRIAS lounge will offer plenty of opportunities for easy access to just the specific information the individual visitors are seeking. There will be a short introductory lecture at 5pm and at 6pm. Anyone who is particularly interested in a certain format can then go straight to the relevant stand, where he or she will be able to learn more about the relevant details. FRIAS representatives will describe the procedures and offer best-practice examples. Also present will be current project group members, organizers of junior researchers' conferences, and fellows from the University of Freiburg and from international universities, all eager to answer questions and share their experiences.

Who is the event for?

It is primarily aimed at early-career researchers (postdocs, junior researchers, assistant professors, junior professors) as well as established professors at the university who are seeking funding for individual projects or who would like to apply for funding for one of the group formats, for instance, for a project group or a research focus. At the same time we also want to draw attention to the fact that, via the instrument of the international fellowships, close collaborative partners from abroad can be brought to FRIAS for three to twelve months. Since 2014 FRIAS has hosted the Marie S. Curie Fellowship Program, which is co-funded by the European Union. Each year, between 200 and 250 scientists and academics from around the world apply for these Marie Curie Fellowships; 10-15 percent are selected. Thus, this program is an important instrument for internationalization and research development at the university. For doctoral candidates, too, it could be useful to visit the FRIAS Fair on June 27. This is primarily because of our funding format for junior researchers' conferences, a program for both postdocs and doctoral candidates . In the past, we have had several of these conferences organized entirely by doctoral candidates.

Information fair "FRIAS Programmmlinien kompakt": Tuesday, June 27, 2017, between 5pm and 7pm at the Freiburg Institute for Advanced Studies, Albertstraße 19, 79104 Freiburg (Map: http://www.uni-freiburg.de/universitaet/kontakt-und-wegweiser/lageplaene/institutsviertelnord). At 7 pm the information session will be followed by an informal reception. All are welcome, there is no need to register.
For details of the program visit http://www.frias.uni-freiburg.de/frias-kompakt