Habilitation project on irregular border crossings
Antje Missbach receives Baden-Württemberg funding for women researchers
Freiburg, Jul 13, 2020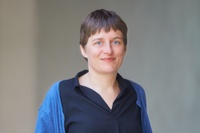 Antje Missbach. Photo: Harald Neumann
The social scientist Dr. Antje Missbach of the University of Freiburg's Arnold Bergstraesser Institute (ABI) is to receive a Margarete von Wrangell habilitation grant as part of a state government program intended to support women researchers in the early phase of their careers. Over the next five years, she will conduct a project called "Facilitators of migration: A comparative analysis of irregular border-crossings and people smuggling discourses in Indonesia and Morocco" at the Department of Social and Cultural Anthropology at the University of Freiburg. The project will form the basis of her habilitation thesis. The grant includes funding for a 5-year position as well as for networking, further education and coaching opportunities, financed by the Baden-Württemberg Ministry of Science, Research and the Arts and the University of Freiburg.
The project starts with the finding that increasingly restrictive border and visa regimes mean that more and more migrants and refugees worldwide are dependent on the services of intermediaries. "These intermediaries, also referred to as smugglers, are the focus of public discourse because they are primarily blamed for the increase in irregular migration and the deaths along refugee routes," Missbach explains. What they do is subject to criminal prosecution in many countries – including Indonesia and Morocco. The case studies, which cover the past decade, focus on these two countries. From a comparative perspective, the study examines who these intermediaries are, what motivates them, and who is or isn't prosecuted for aiding and abetting irregular border crossings. "The empirical findings obtained are meant to reframe the current dominant discourse on aiding and abetting irregular border crossings and on the political means deemed necessary to tackle intermediaries," Missbach says. In particular, the study underscores the negative consequences which the fight against intermediaries have on refugees' right to asylum. Without support to leave, asylum seekers cannot apply for protection because to do so, they have to be outside their home country.
Missbach's methods will include field research; interviews with intermediaries, prosecutors, judicial officers; and an analysis of court verdicts. On this basis, she will seek to understand and compare the construction of the figure of the intermediary in various smuggling discourses. In particular, she will consider how smuggling infrastructures are created, which actors cooperate within these short-lived networks, and which law enforcement measures – including preventive approaches – have been introduced in Indonesia and Morocco with the support of external partners such as the European Union and Australia to deter undesired border crossings.
More Margarete von Wrangell habilitation grants