Grazing animals used in viticulture
State Secretary Andre Baumann learns about the pilot project "Win-Win in the Winery (W3)"
Freiburg, Jul 25, 2019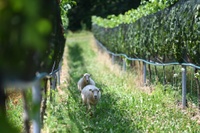 Photo: Patrick Seeger
Winegrowers in the Kaiserstuhl have started getting help from an animal herd. As part of a new research project, 35 sheep will soon start grazing in vineyards near Freiburg. The project "Win-Win-in-the-Winery (W³) - Innovative, Ecological and Economic Vineyard Management with Extensive Sheep Grazing" is examining to what extent grazing animals are suitable as viticultural and nature conservation aids. The University of Applied Forest Sciences Rottenburg, the Faculty of Environment and Natural Resources and the Department of Geobotany at the University of Freiburg and the State Viticulture Institute Freiburg are cooperating in the project. Based on the research results, the project partners will be able to impart practical knowledge to winegrowers in the future.
On Thursday, July 25, 2019, employees of the participating research institutions presented the first experimental plots, including Ouessant sheep, on the resistance and clone breeding grounds at the State Viticulture Institute in Freiburg to Dr. Andre Baumann, State Secretary in the Ministry of the Environment, Climate and Energy Sector Baden-Württemberg.
The accompanying vegetation is a constant challenge for viticulture because it competes with the vines for water and nutrients. That is why the winegrowers have to push back the plants either mechanically or chemically several times a year. Such an environment is not a suitable habitat for most insects. For the winegrowers, the removal of unwanted shoots near the ground and the manual or mechanical defoliation of the vines is also a laborious task, which is made even more difficult by the typical sloped landscape on which the grapes are cultivated.
Sheep grazing could be a tremendous help. Among other things, they upgrade the habitat, promote good soil life and help to control the growth of other plants. So far, however, there is no applied research on the use of animals, and up to now the winegrowers have lacked concrete recommendations.
The Stiftung Naturschutzfonds Baden-Württemberg:
(Baden-Württemberg Nature Conservation Fund Foundation) is funding the research project with around 380,000 euros from lottery proceeds over the next four years. Further funds amounting to 21,000 euros will be provided by the Musella Foundation in Freiburg and the Heidehof Foundation GmbH in Stuttgart for building the pasture's infrastructure.
Statements:
Dr. Andre Baumann, State Secretary in the Ministry of the Environment, Climate and Energy Sector Baden-Württemberg says, "For the first time ever, we have a project in the field of applied research that brings together viticulture and grazing livestock. Vineyard management with extensive sheep farming is an innovative, ecological and economic approach. The great interest of the winegrowers in the project shows the need for new, ecologically compatible methods that can protect the environment and promote biodiversity."


Prof. Dr. Rainer Luick, Project Director at the University of Applied Forest Sciences Rottenburg says, "Rarely has project development been this much fun. We have received positive feedback on our plans from all sides. If we manage to translate expectations into practical recommendations, that would be a real win-win."


Nicolas Schoof, co-initiator and doctoral student at the Faculty of Environment and Natural Resources at the University of Freiburg, says, "Seriously considering using sheep in German vineyards had failed up to now primarily because winegrowers were lacking clear ways of doing it. In the near future, however, we will provide tailor-made implementation strategies for different wine-growing systems in which sheep farms are also expected to play an important role."


Dr. Michael Breuer, State Viticulture Institute Freiburg, says, "The State Viticulture Institute in Freiburg has been working for a long time on new environmentally-friendly and sustainable methods of viticulture. This new project fits in excellently with the Institute's goals. Sheep in the vineyard could be an interesting and resource-saving alternative for some vineyard locations. We will definitely test it out to see what advantages and disadvantages this method will have from a practical perspective."
For more information about the project:
www.hs-rottenburg.net/forschung/projekte-schwerpunkte/management-und-entwicklung-laendlicher-raeume/aktuelle-projekte/
www.vegetationskunde.uni-freiburg.de/Win-Win%20im%20Weinberg
 
For more information about the Stiftung Naturschutzfonds Baden-Württemberg (Baden-Württemberg Nature Conservation Fund Foundation):
www.stiftung-naturschutz-bw.de
Contact:
Prof. Dr. Rainer Luick
Chair of Nature and Environmental Conservation
University of Applied Forest Sciences Rottenburg
Tel.: 07472/951-238
luick@hs-rottenburg.de
Nicolas Schoof
Chair of Site Classification and Vegetation Science
University of Freiburg
Tel.: 0176/61817226
nicolas.schoof@waldbau.uni-freiburg.de