Laura the Teddy Bear Goes to the Doctor
At the Teddy Bear Hospital, medical students treat stuffed animals for children in Freiburg.
Freiburg, Jun 08, 2017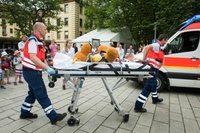 Photo: Klaus Polkowski
The 14th Teddy Bear Hospital was held in the park of the Freiburg University Medical Center. Anna, who is five years old, brought her teddy bear Laura for treatment. Her friend Thomas brought his stuffed turtle Robin.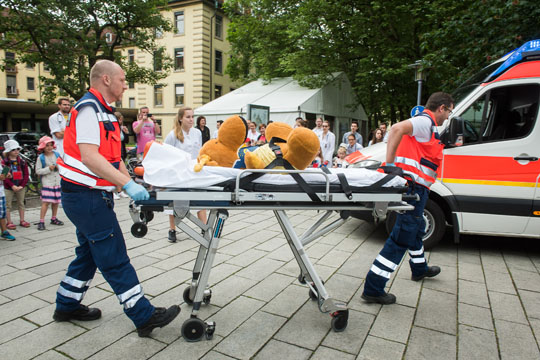 Foto: Klaus Polkowski
Robin is a sad sight. The green stuffed turtle's right forelimb is hanging down. Little Thomas holds him tight as he takes him to the tent with "Treatment" written on it in the park of the Freiburg University Medical Center. Anna, who is in the same kindergarten as Thomas, is right there with him. She's carrying Laura in her arms, her beige teddy bear who has a bandage.
The two five-year-olds cautiously enter the treatment tent for stuffed animals. "Come on in," greets Antonia Riefler, a friendly medical student. Riefler is wearing a white doctor's coat and has a stethoscope hanging from her neck. Today she's a teddy doctor, or "Teddydoc" as they're called here. With Anna and Thomas's help, she'll be examining, palpating, and X-raying the two stuffed animals. Then she'll give the children a diagnosis for their little friends, who will receive treatment and might even be operated on in the surgery tent.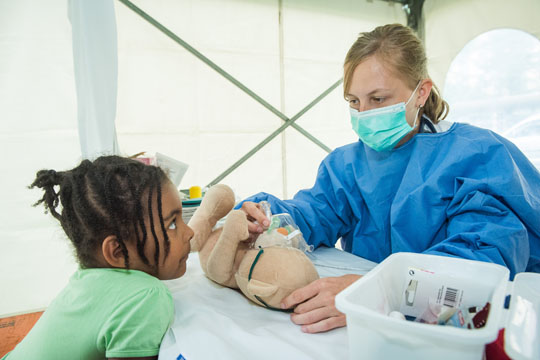 Thomas and Anna assist in the operation on their stuffed animals, losing their fear of going to the doctor and having fun in the bargain. Photos: Klaus Polkowski
Overcoming Fears
"The Teddy Bear Hospital should be as real to the kids as possible," says Tessa Görne, the main organizer. This is the 14th time this event, which is a cooperation between the University of Freiburg and the Freiburg University Medical Center, is being held. The idea originated in Scandinavia. Teddy bear hospitals are meant to take away some of the fears children have about going to the doctor, while also promoting their interest in health. "Studies have shown that it really works," Görne says. Teddy bear hospitals have therefore been growing for years in Germany as well.
Because the doctor always begins a visit with a patient interview that is what teddy doctor Antonia Riefler does. "What is wrong with your stuffed animals?" she asks. Robin the turtle had a common household accident. With a worried voice, Thomas tells her, "He fell off the bed." Anna doesn't know how Laura got a hole in her neck. The next step is then to find out if the bear and turtle have suffered any internal injuries.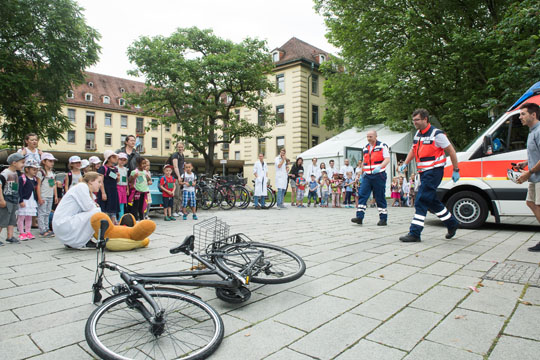 This poor moose has had a bike accident. He needs medical attention from the teddy doctors quick! Photo: Klaus Polkowski
Riefler shows Anna and Thomas how to use a stethoscope to hear the animals' heartbeat. "Do you hear anything?" she asks Anna. The little girl nods, relieved. Laura's heart sounds healthy. Then it's Thomas's turn to hold the chest piece of the stethoscope to Robin's back and put on the ear pieces. "What do you hear?" Riefler asks. "Boom, boom," says Thomas, smiling.
A Sensitive Approach to Health
Teddy doctors need to choose their words with care when working with young children. "They have to know how to say certain things," said Görne. That is why Görne trains the volunteer students together with the project's patron, Professor Dr. Brigitte Stiller, the Medical Director of the Clinic for Congenital Heart Defects and Pediatric Cardiology at the Heart Center of the Freiburg University Medical Center.
Most of the teddy bears suffer from only minor discomforts and injuries, like an upset tummy, a common cold, or a broken arm or leg. Sometimes a child will say, "My teddy bear has 'Krebs'" (the German word for "cancer"), which they think is a crab ("Krebs" also means "crab"). Once in a while a child will even say that their stuffed animal has a real tumor. In cases like these, the teddy doctors have to carefully think about what they say and do. "We ask them things like where does their teddy bear hurt the most," said Görne. If it's their stomach, for example, then they treat the patient and everything is better. Nevertheless, the teddy doctor also needs to tell the child gently that cancer is not an easy illness that goes away with a pill or a shot.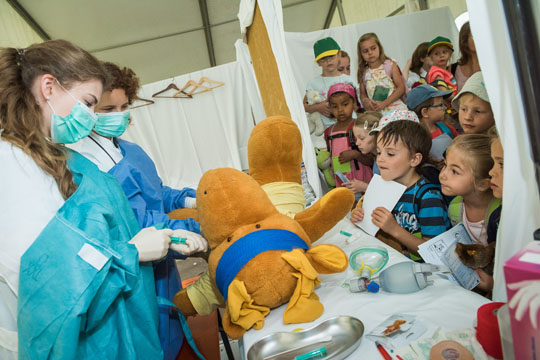 Brave moose! In the Teddy Bear Hospital, children can see that shots aren't so bad. Photo: Klaus Polkowski
In the meantime, Anna and Thomas have moved on to another tent with a sign that says "Diagnosis." Inside are machines and devices made of cardboard for doing electrocardiograms, X-rays, and ultrasounds. After undergoing several tests, Robin the turtle and Laura the bear thankfully only have external injuries, but their wounds are big. "We'll have to give them stitches," Riefler says.
In the operating tent next door, the teddy doctor dons surgery scrubs and carefully sews her patients with a needle and thread. Anna and Thomas watch her, fascinated. They help her cut the thread and put bandages and Band-Aids on their beloved friends.
100 Teddy Doctors Working in Shifts
The busy field hospital was open for four days, during which roughly 100 teddy doctors worked in shifts to meet the high demand. Most of the teddy doctors are medical students, with a few dental and pharmaceutical students volunteering on the team. "The Teddy Bear Hospital is a huge success with the kids," Görne says, satisfied. This is the third time she is head of the project, which takes up about 15 hours of her time every month. The teddy doctors, on the other hand, only work 3 hours in addition to their regular shifts.
"Robin is all better now," says Thomas after the operation. Anna feels the same way about Laura. Holding her teddy bear up to her ear, she says, "Her heart is beating much louder now." She and the other children are now at the teddy bear school, where Bruno the bear is the star. "I can reach into his tummy and see what organs he has," says a student teacher.
Together with the children, she looks at Bruno's heart, stomach, and kidneys and explains their functions. "How does water come out of his body?" she asks. "Through pee," everyone answers in unison. After the introduction, medical students work with the children in groups of two or more. In the end, Anna and Thomas are given prescriptions for their little friends. At the pharmacy of the Teddy Bear Hospital, they get candy, get-well tea, and balloons. The cure is as good as guaranteed.
Lots of Fun with Little Patients and Their Caregivers
"That was pretty exciting," Riefler says after her first time as a teddy doctor. A second-semester medical student, she enjoys working with kids. Görne agrees. She is also studying medicine in her sixth semester and has already decided she wants to be a pediatrician. Her passion for pediatrics is what attracted her to the Teddy Bear Hospital project.
"It was a huge improvement that we could have our hospital in the park of the Medical Center this year," she said, adding that the location, logistics, and atmosphere were better than in the City Park (Stadtgarten), where it was previously held. Then it's time for Görne to get back to her organizing duties. "The Teddy Bear Hospital is a little bit stressful, but it's also a lot of fun!" she says.
Jürgen Schickinger

For more information about the Teddy Bear Hospital project, visit
(only in German)