22 seconds of weightlessness
Freiburg crystallographer takes part in a parabolic flight campaign in order to conduct research under microgravity conditions
Freiburg, Sep 15, 2017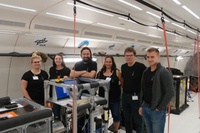 Photo: Manfred Kranz-Probst
To experience weightlessness without having to enter space? The Freiburg crystallographer Dr. Tina Sorgenfrei and her team got a taste of it from September 11-15, 2017 during which time she participated in the 30th parabolic flight campaign by the German Aerospace Center (DLR). Together with ten other experiences, the tests by the researcher at the Institute of Earth and Environmental Sciences were conducted under weightless conditions.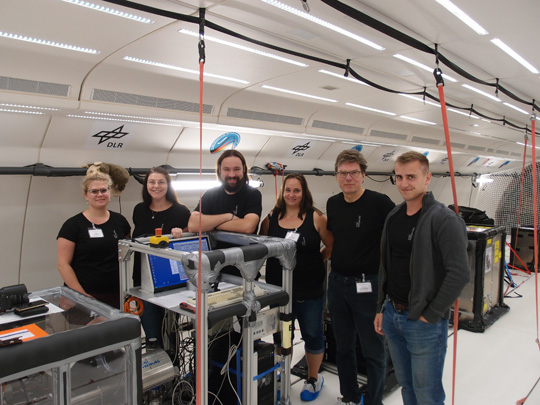 Tina Sorgenfrei (third from the right) and her team with their experiment on board the airplane.
Photo: Manfred Kranz-Probst
Research under conditions of near weightlessness – so-called microgravity – has been a central competency in crystallography at the University of Freiburg for the past 30 years. Tina Sorgenfrei was in the French province of Bordeaux in order to participate in a parabolic flight campaign and to utilize the weightlessness produced during the flight for research purposes. A parabolic flight is a particular flight maneuver in which the airplane flies along the curve of the Earth's surface. During the maneuver, people experience a brief moment of weightlessness and/or reduced gravity. Distributed over four days throughout the entire campaign, a total of 124 so-called parabolas were performed. Tina Sorgenfrei had exactly 22 seconds of microgravity for each parabola performed. In other words, she had about 45 minutes available in total to conduct her experiment.

In many aspects of today's technology, high-quality crystals are used for such objects as solar cells, LEDs or microchips. All of them require crystalline materials such as silicon, germanium or tin sulfide. At best, crystals should have an even composition, which is often very difficult to achieve. The most common process used is so-called crystal pulling and melting. It involves melting the necessary materials to be grown and then freezing them into place in a controlled manner. During the melting process, streams emerge – through gravity and other forces – that can lead to irregularities in the crystal's composition and to a lower-grade quality. In order to manipulate the melting movements for the best possible crystals to emerge, the processes during its fluid phase must be understood. Because the Earth's gravity conceals many effects in the melt volumes, it needs to be eliminated. Crystallographers have to enter space – or a parabola-flying airplane in order to reduce gravity altogether.

For regular crystal pulling experiments you need much longer phases of constant weightlessness than just 22 seconds. For that reason, no traditional growing experiments have been conducted during the parabolic flights. Instead, the purpose was to explore how the various materials' melting behaves during the beginning stages of crystal pulling when exposed to microgravity. The insights gained from it can than be added to the crystal pulling that occurs on Earth. Also, the processes that occur under normal gravitational conditions can then be improved

In celebration of its 30th anniversary, the DLR has placed a particular emphasis on the parabolic flight campaign. The University of Freiburg has already written several articles about it.
Jannis Behnke
Video parabolic flights with the A310 ZERO-G


The DLR's social media campaign
https://www.facebook.com/DLRde/
https://www.instagram.com/germanaerospacecenter/
https://twitter.com/DLR_de
Reports about the crystallography research in weightlessness in uni'leben 01/2015 (German)


Report about research in sport sciences during parabolic flights in uni'wissen 02/2011 (German)


Experiments conducted during the 30th parabolic flight campaign