First year students in the stands
A warm welcome for the new students and the "market of possibilities" in the Schwarzwald stadium on October 13, 2017
Freiburg, Oct 04, 2017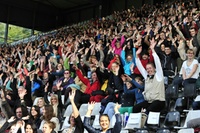 Photo: Patrick Seeger
The University is gearing the first semester day for all students who have taken up a course of study for the first time for the winter semester 2017/2018 at the University of Freiburg. A lot of useful information will help the new arrivals find their way at the university, prepare for everyday life as a student and get their first impression of Freiburg. Around 4,000 first year students and their parents are invited to attend. The students will be greeted by rector Prof. Dr. Hans-Jochen Schiewer, Katharina Krahé from the student government and Hanno Franke, director of marketing & sales for SC Freiburg.
Central organizations, student groups and institutions that partner with the university will introduce themselves at the "market of possibilities". A music program has also been arranged.
What: Greeting and "market of possibilities"


When: October 13, 2017, 2pm


Where:
SC Freiburg's Schwarzwald Stadium
Schwarzwaldstraße 193
Osttribüne
79117 Freiburg


The event is open to the general public.


Host: University of Freiburg


Contact information: Melanie Hübner melanie.huebner@pr.uni-freiburg.de, + 49 (0) 761/203-98606


Pre-registration is not required.